Deploying Nimble Streamer in Microsoft Azure cloud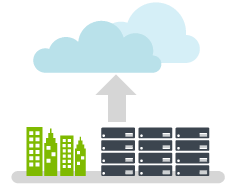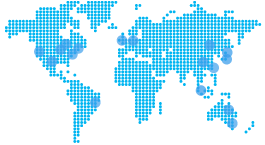 Nimble Streamer, a freeware media server
Nimble Streamer is a light-weight freeware media server for live streaming and video-on-demand. Having support of all major streaming protocols and techniques, Nimble gives a solid foundation for building streaming networks.
Cloud infrastructure is widely used by Nimble Streamer customers. This is why we partnered with Microsoft to bring excellent Nimble Streamer experience to Azure customers.
Deployment flexibility via Microsoft Azure
Azure is Microsoft's cloud computing platform, a growing collection of integrated services for moving faster, achieving more, and saving money.
Azure runs on a worldwide network of Microsoft-managed datacenters across 19 regions. This fast-growing global footprint gives you lots of options for running applications and ensuring great customer performance. Azure is also the first multinational cloud provider in mainland China.
Azure's pay-as-you-go services can quickly scale up or down to match demand, so you only pay for what you use. Per-minute billing and a commitment to match competitor prices for popular infrastructure services like compute, storage, and bandwidth means you're always getting unbeatable price for performance. With all these great capabilities, you can use Azure to develop your streaming network. Nimble Steamer is set up in a few minutes so you'll get the entire media delivery network very quickly.
Please check Microsoft Mini Case Study and Datasheet from Microsoft Partner Apps blog post describing all benefits of using Nimble Streamer with Microsoft Azure.
Let's see how you can install Nimble Streamer instance in Azure using Ubuntu VM as example.
Step 1. Install Nimble instance in Azure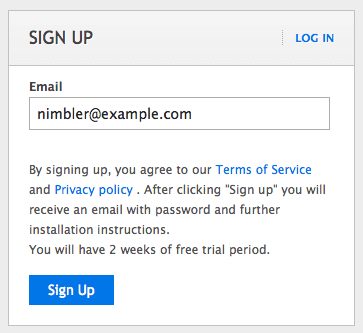 Login to Azure portal
Click "New" button at left upper corner.
At "Create" menu click on "Compute".
At "Compute" menu click on "Azure Marketplace".
At "Azure Marketplace" menu click "Everything".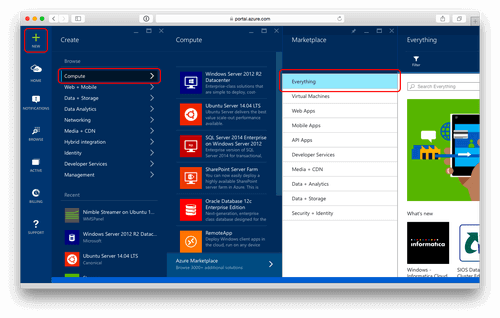 Type "Nimble" in search string and press "Enter".
Select favorable OS type. For current example we'll use "Nimble Streamer on Ubuntu 14.04-2 LTS".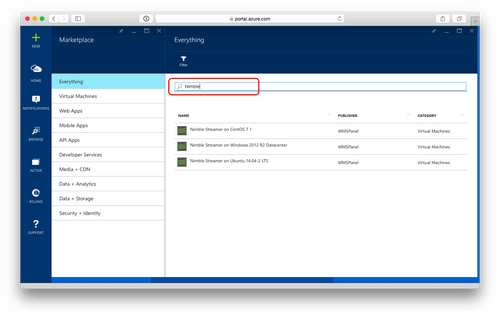 Click "Create" button.
Enter host name ("nimbleazure" in this example).
Enter user name ("nimbler" in this example).
Enter password.
Click "Create" button.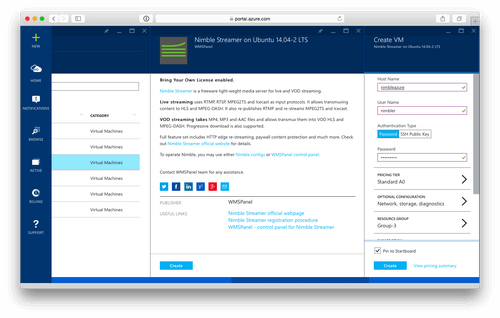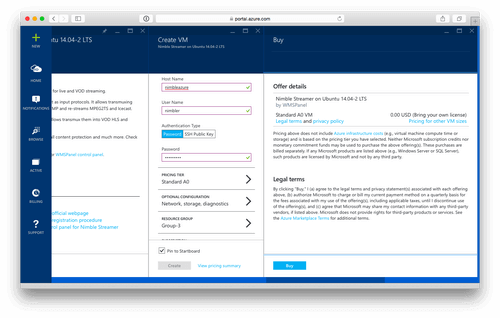 Wait a minute while virtual machine is being created.
Click "Buy" button.
Click "All settings" link.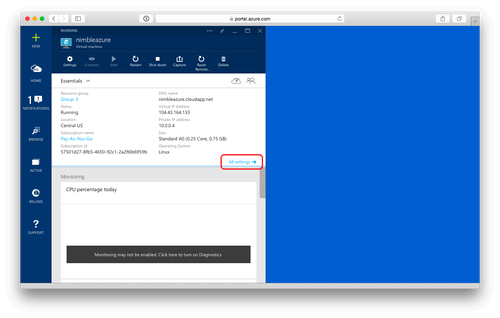 Click "Properties" link.
Find SSH field in properties menu ("nimbleazure.cloudapp.com:64463").
This is a host and a port needed to log into your new virtual machine.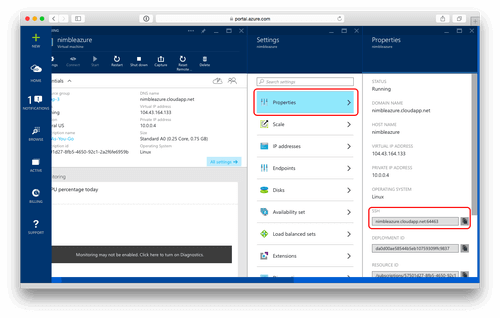 Log into a new virtual machine. Read How to Log on to a Virtual Machine Running Linux for more information.
In linux console, type
sudo /usr/bin/nimble_regutil
You will be asked for your WMSPanel login and password sent to you during the sign up.
Upgrade Nimble Streamer to latest version by executing 2 simple commands
sudo apt-get update
sudo apt-get install nimble
Restart Nimble Streamer
sudo service nimble restart
To operate the server, use either of parameters of this command:
service nimble status|start|stop

Click "Servers" top menu.
You can see new created server called "nimbleazure" available in your WMSPanel account.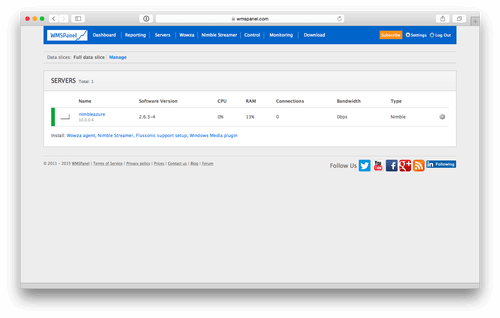 Now you may set up your streaming via Nimble Streamer. The best way to perform the setup is the WMSPanel SaaS web UI, see the next step.
Step 2. Set up streaming scenario
You may go through the following setup instruction to configure your server:
Check the top menu of this page for links to general feature sets supported by Nimble - you'll find interesting things there as well.
Take a look at performance tuning guide showing basic approaches to best performance.
You may also want to check server config options to see what else you can use for your streaming scenarios.
What's next?
Now you may start the streaming.
Follow the steps described above to try Nimble Streamer in action and let us know if you need any help.
You can also Search through our documentation to find more information.